Hello again, fellow lj writers/readers. What have you been up to?
I was adventurous and tried new food! I guess this is a running theme...
Some back story: When I was in high school, I watched A LOT of anime. I'm not an anime expert by any means, but I did dabble in a few series and movies. Mostly Watanabe and Miyazaki; I was OBSESSED with Cowboy Bebop and Princess Mononoke. One thing always stood out to me while watching anime - how good the food looked!
Mmm... rice balls.
I wanted to try sushi, and ramen, and a rice ball SO BADLY, but I could never find someone/a place to go to where I could quench my Japanese food curiosity. To be honest, I can't remember the first time I had sushi. It might have been at GVSU's campus with Molly... I don't know for sure. Once I tried it though, I was hooked. But I rarely strayed outside of my miso soup/tempura/edamame/gyoza/sushi bubble. Mostly because I didn't know how to eat anything else, or order it. I'm very shy when it comes to going to food places and asking questions about the menu. I want to be the cool kid that already
knows
everything.
Cooking Mama will show me how to make shrimp tempura at home!
I was sick of this approach, though. I am all about branching out this year, and if I want to try ramen,
real
ramen, that they put in a huge boiling bowl with meat and veggies, by god I'm going to do it. I obsessed over it with Lauren, and she found this place in Canton,
Matsuchan
, that served honest to god ramen noodle bowls. It's shoved in a mini mall at the north east corner of Sheldon and Ford. The place really is tiny - there are only maybe 7 tables inside, and everybody there was Japanese (and speaking Japanese, I picked out a few things, but nothing ground breaking because my comprehension at this point is very, very bad). We stared out with some gyoza (pork dumplings) and they were nothing special. But the ramen, OMG. Please see below:
Note: my cell phone takes horrible pictures. I think next time I won't be stealth and I'll just take pictures with my normal camera.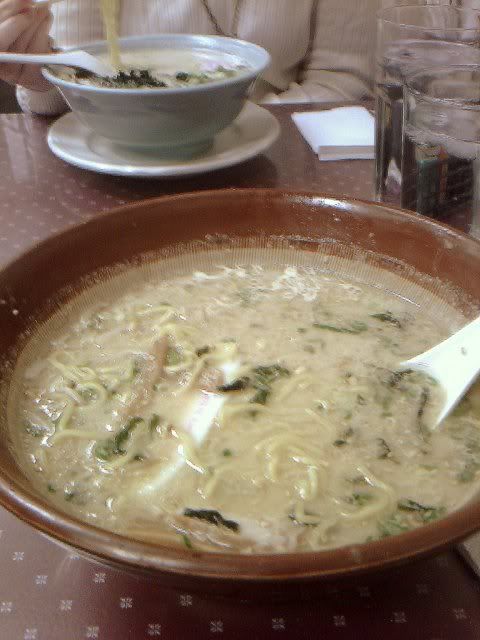 Pork Miso Ramen!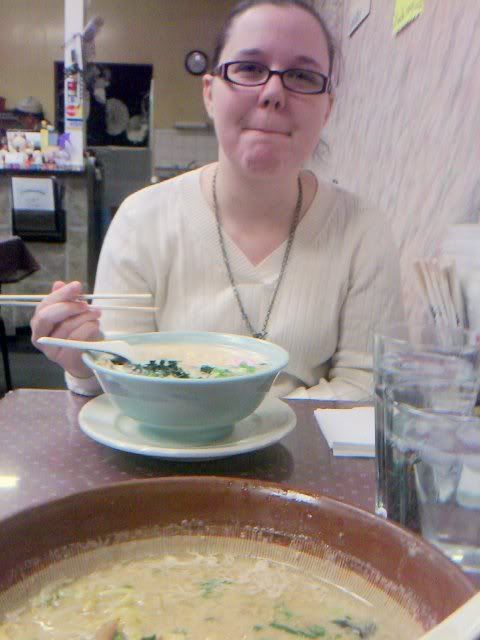 Lauren and her huge bowl of noodles. She didn't know I was taking the picture - I think her exact words before I snapped this were "What the hell are you doing?". I think it looks awesome :D
Now, I wasn't sure how to eat this, or how to approach eating it. I ended up eating the majority of it with my chopsticks, and then when there was only broth left I attempted to slurp it up using the spoon. I say the word "spoon" lightly, as the utensil I was using may be classified as a ladle. It was fucking huge, kind of like
this picture
. The soup was SO HOT (the liquid was still boiling when they set it down in front of me) but it felt SO GOOD in my tummy. Lauren and I both had warm soup belly afterward. It was worth every penny.
Would I return to Matsuchan? FUCK YES. They're set up like a carry-out place, so if you're not up for eating in they will wrap it up for you :) They take credit cards, too, but unfortunately I don't think they took Discover (which, in Leah and I's book, is a check in the "con" column). Mine was $9.50? Lauren had regular pork ramen and it was about $9. It really fills you up, though.
Next time I'm trying their seafood ramen. And their fried rice. Someone ordered it while we were there and it looked epic.
...now I'm hungry.